Songwriters Playground
Emmy Award winner Barbara Jordan has written songs used in popular TV shows and movies, including CSI:NY, Star Trek: Enterprise, Friends, ER, The X-Files, Being John Malkovich, Before the Devil Knows Your Dead, Dreamcatcher, Jackie Brown, and many more. She also wrote the popular book "The Songwriters Playground" to inspire creative songwriting. She's taught at Berkley School of Music. She leads workshops around the country, consults with songwriters, and critiques songs. Here website is designed to promote her book and help potential clients learn more about her services.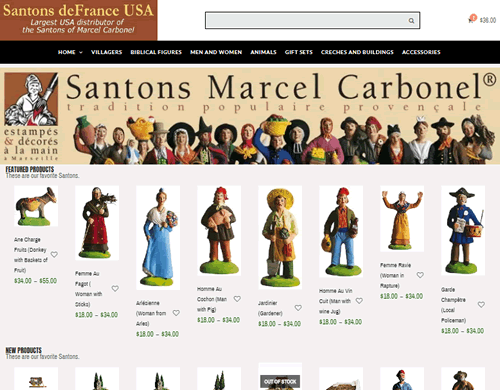 Santons deFrance USA
Santons deFrance USA is the largest distributor of the santon collectables made by Marcel Carbonel. Carbonel is the foremost craftsman in the centuries-old tradition of hand-made santons. The client was dissatisfied with its out-of-date website that had powered their growth for years. It was difficult to manage and the images did not represent the fine workmanship of Marcel Carbonel. Furthermore the images were not differentiated in the various size options. Another problem was that the old site did not accept credit cards securely, forcing customers to use PayPal as the only checkout option. Adding a sense of urgency, a new competitor was making inroads with a cleaner site, better SEO, and smart use of social media. The solution was to create a new site to better showcase the product line, to enhance usability, and to improve visibility. The site was created using responsive design to make sure it rendered properly, regardless of the users device. New images were obtained from Marcel Carbonel and secure credit card processing was added, using a new online shopping cart. As the project progressed, SEO techniques were incorporated and new Facebook and Pinterest pages were created and linked to the site.
Emergent Meditation
EM is an online course created to help you refresh and restart your life with a comprehensive step-by-step program. Lessons include mindfulness, meditation, maximum relaxation, mind power, directed mental force and more, all optimized using the transforming principle of emergence. The site was designed to promote and sell the course and to provide password protected access to the content. The EM Blog covers topics related to the mind and brain, including recent developments in neuroscience.
Ed Noyes Consulting
Ed Noyes Consulting is a business consulting service. Business Strategy, Turnaround Solutions, Information Systems, Management Services, and Second Opinions are just some of what Ed Noyes Consulting offers. Initial consultations are free. The site includes testimonials, privacy policy, and more.